Music
"Music, the greatest good that mortals know, And all of heaven we have below."
--Joseph Addison.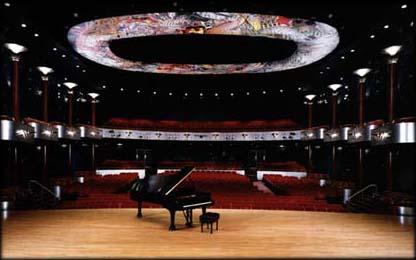 About Me | Writing | Art | Main | Links | Misc.
As an avid lover of almost all music (if it's got a beat and melody, chances are I'll listen to it, if not always like it), it seemed a natural thing two years ago for me to get into music composition. .......But it took me a long time to get to the point that I could compose something I don't cringe to show you. Thus, the selection below may seem a bit slim. This is not because I only compose lightly, but because I only do decent things occasionally.
Ah yes, but the explanation first, the disclaimer later. I have, in the past, mainly composed using Noteworthy Composer to save files in the MIDI format, which has advantages in that it is very small, but is stunted by the fact that the quality of the instruments used in these pieces is reliant mainly on the quality of your soundcard. If you don't have a decent soundcard, it's possible to find a decent synthesizer online - a Google search would likely turn one up - which could circumvent the problem.
That said, though, I don't know that I'll be making any more MIDI files in the forseeable future. With a few new programs under my belt, I"m now trying to get into the video game remix scene. I only have one piece under my belt as of now (in the delicious MP3 format), but I expect that to change in time as I gather better sounds for my music-making.

Above all, this is just a hobby of mine, and one that I have enjoyed quite thoroughly. I hope you like the pieces I have on display here.
---
MIDI
| | |
| --- | --- |
| SONG | DESCRIPTION |
| A Lucid Truth | One of my first decent compositions (not that good), finished around two years ago. Put together as a theme for Lucent Mazer, one of the characters in the freeware game project Furious Knives that I was a part of. |
| Aragorn | Finished around January of 2001. Written as a theme for the character of Aragorn Lestrides from my friend Mox Jet's Planeswalker Chronicles. |
| By Starlight | Finished in May of 2001. A rock/electronica sort of piece, with an actual decent drum set. I still use this as background music for my section on Icy Brian's website. |
| On the Stroke of Midnight | Another of the few Furious Knives-composed pieces I see fit to show you, and probably the oldest piece displayed here. It's nothing all that special, but it actually works fairly well as background music, so I like it. |
| Seeker Dark | The last of my MIDI offerings for the forseeable future, this one took me around 7 months to finish. It was written for my Xenofall series as a theme for the organization of Lavoid Hunters known as the Seekers. |
| The City of Zerakai | Older piece of mine; basically a bunch of chromatic percussion instruments going through a rather short theme. I still like how it turned out, and hey, it's one of the only things based on my first (abandoned) decent fanfic, Chrono Trigger: Orion. |
| The Final Hour | Another FK piece, meant as mood music of some sort. I like how it sounds even today, but it's far too simplistic and minimalist; a reworking would do it a world of good. |
MP3
| | |
| --- | --- |
| SONG | DESCRIPTION |
| | A brief, rather crazy accapella du-wop mix using the lyrics I'm going to be using on a rock version of Inside, with music by Sonicblade. If you listen to what I'm saying, you'll realize it's very wrong to sing it like this. But I think it is funny. |
| Kyrie in Virtual | A short, rather repetitive remake of Kyrie from the Parasite Eve soundtrack. It's okay, I guess, but I need to work on it more. |